PROTECTION:
Call: (310) 645-8789 for service.
Fax: (310) 645-8788.
E-mail: prestonaol.com

Training and experience in fire inspection and hazard evaluation. Good familiarity with flammable liquids and other aspects of fire hazards and protection including automatic sprinkler and fixed chemical extinguishing systems, and escape systems.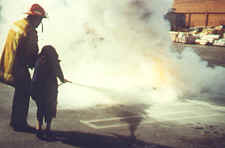 Fire safety background dating from training at Liberty Mutual in 1969. This training dealt with safe handling of flammables, their classifications, and characteristics. Other fire safety training included the FIA school in Hartford, and fire safety seminars and courses for Chubb and Great American. I also have practical experience with propane and LPG.Able to address the nature of the fuel containers and appropriate practices for dispensing and the human factors associated with the use of fuels.
Versed in gas appliances and common hazards, building features important to fire safety, many special hazards, and NFPA Codes and municipal fire codes.
Former Professional Member: ICBO.